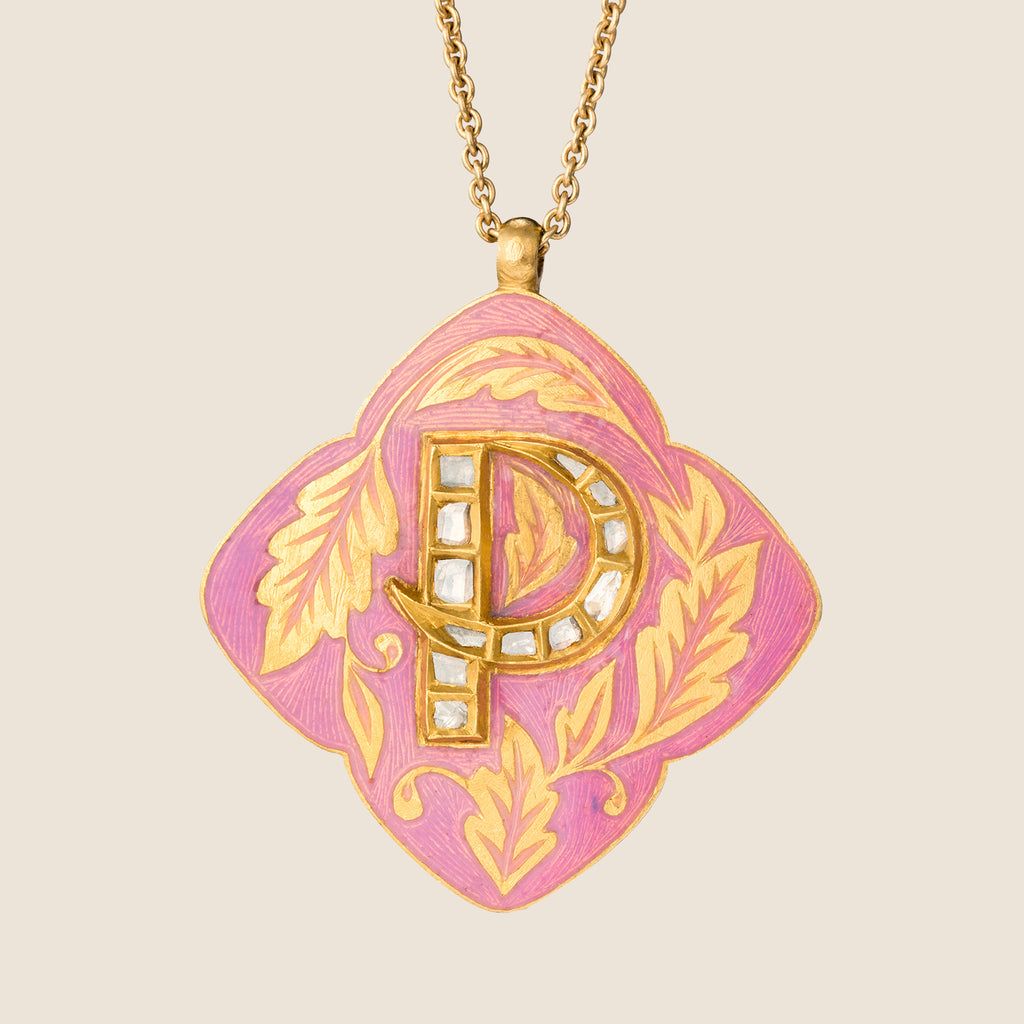 'Himalayan Cherry' Clover Initial Necklace
$10,250 USD
Blush with wild femininity as you ascend to your own peak.
The rising of a cherry blossom from bud to full fruit-laden bloom is a symbolic flourish; a feast for the eyes and the senses which stretches through the soaring ranges from India's Himachal Pradesh, up to the otherworldly snow-peaks of Kashmir. Inspired by the pastel hues of these beautiful pinkish-white trees, we set glacial precious stones against this muted glow - a subtle touch which is both wild and feminine. Wearing the Himalayan Cherry pendant acts as a window of calm into the world's rooftop, where mountains create a profound silence and nature exists at its most incredible. Give in to temptation and pluck the forbidden fruit.
These reversible pendants are modern heirlooms made with traditional artistry, drawing inspiration from ancient islamic motifs, but displaying contemporary elegance and style.
Although each Roya pendant is unique, they all share the same symbolism. The traditional flower-motifs in enamel, based on the ancient indo-islamic symbols representing the fullness of life, celebrate the abundance of the natural world, and the vastness of potential waiting to be awakened within you.
Pendant in 23K gold with 24k gold kundan setting, rose cut diamonds, and vitreous enamel.  
Comes fitted with a 22K yellow gold chain embellished with rose cut diamonds and an 18K gold lobster clasp.
Dimensions
Pendant: approx. 30 mm
Chain length: 20" + 2" extension (Please write to us at care@agarojewels.com for a custom pendant size or chain length). 
Shipping take approximately 6 weeks; please consider this time requirement when placing your order. 

Prices are inclusive of duties, shipping, freight and insurance.
Please note: All of our jewelry is entirely handcrafted, which means that each piece is unique, with individual variations in the enamel motifs, carat weights and stone quantities. Everything we sell is made using traditional methods and crafts which date back to the Mughal era. To learn more about how the jewelry is made please visit The Agaro Karkhana.