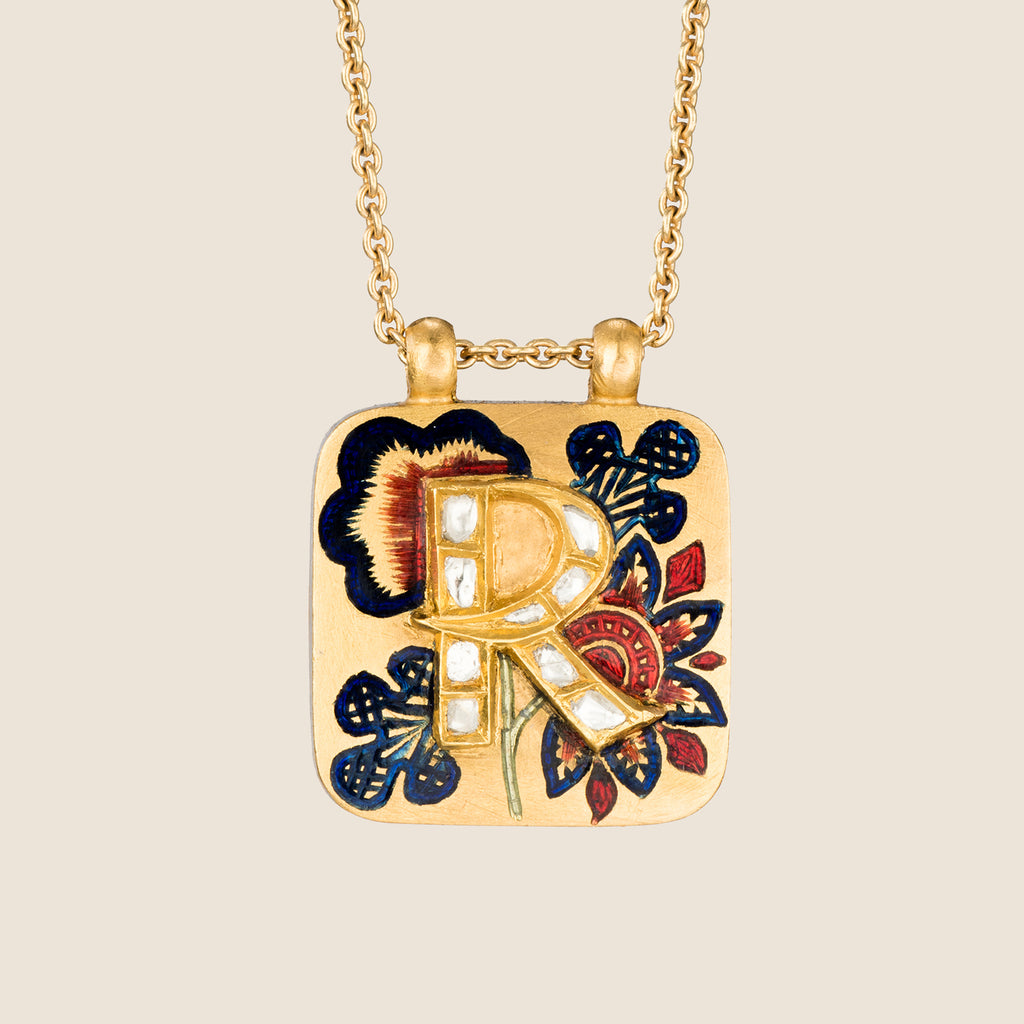 'Chintz Dynasty' Taweez Initial Necklace
$7,500 USD
Regal exclusivity with a rebellious streak where Versailles meets Mughlai.
Deriving from the floral decorations exhibited by opulent Mughal art, this pendant's textile-inspired style encapsulates a world-wide 17th century fashion phenomenon in a single timeless locket. True chintz was highly popular during the late 1600s, when European trading of the fabric was banned due to the inability to replicate designs within Europe. With these rich representations of natural beauty restricted, the pattern grew a secret dynasty held by the storied and lawless Court of Versailles, where it was still worn by fashionable young courtiers. This Chintz Dynasty lives on in its regal exclusivity; gold-leaf with a rebellious streak, in blood red and royal blue.
These reversible pendants are modern heirlooms made with traditional artistry, drawing inspiration from ancient islamic motifs, but displaying contemporary elegance and style.
Although each Roya pendant is unique, they all share the same symbolism. The traditional flower-motifs in enamel, based on the ancient indo-islamic symbols representing the fullness of life, celebrate the abundance of the natural world, and the vast potential waiting to be awakened within you.
Pendant in 23K gold with 24k gold kundan setting, rose cut diamonds, and vitreous enamel.  
Comes fitted with a 22K yellow gold chain embellished with rose cut diamonds and an 18K gold lobster clasp.
Dimensions
Pendant: approx. 20 mm
Chain length: 16" + 2" extension (Please write to us at care@agarojewels.com for a custom pendant size or chain length). 
Shipping take approximately 6 weeks; please consider this time requirement when placing your order. 

Prices are inclusive of duties, shipping, freight and insurance.
Please note: All of our jewelry is entirely handcrafted, which means that each piece is unique, with individual variations in the enamel motifs, carat weights and stone quantities. Everything we sell is made using traditional methods and crafts which date back to the Mughal era. To learn more about how the jewelry is made please visit The Agaro Karkhana.