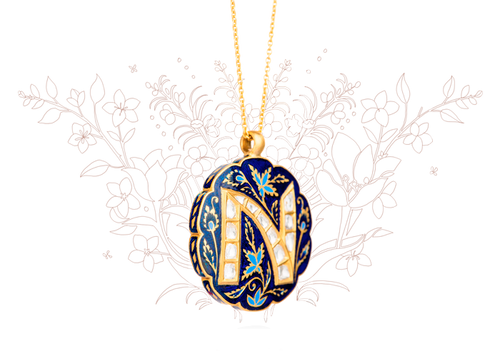 Roya Initials
Roya, meaning "dreams" in Persian, encapsulates the essence of this extraordinary collection. Each piece of this collection is a unique work of art, meticulously crafted by our skilled artisans who pour their passion and dedication into every creation. Made in 23.5K gold, they radiate an unparalleled warmth and opulence. However its magnificence lies in the exquisite enameling, which is a testament to the ancient art of meenakari. The pieces are inspired by the splendor of miniature paintings, intricate embroideries, majestic Mughal frescos, and architectural marvels.  

What's remarkable is these reversible works of art offer complete customization, offering versatility that matches your ever-changing desires. Choose your initial, infuse it with symbolism and create a deeply meaningful connection to your identity and journey. Let your dreams take shape, embodied in the captivating artistry of a Roya Initial Necklace.

 

Showing items 1-15 of 15.