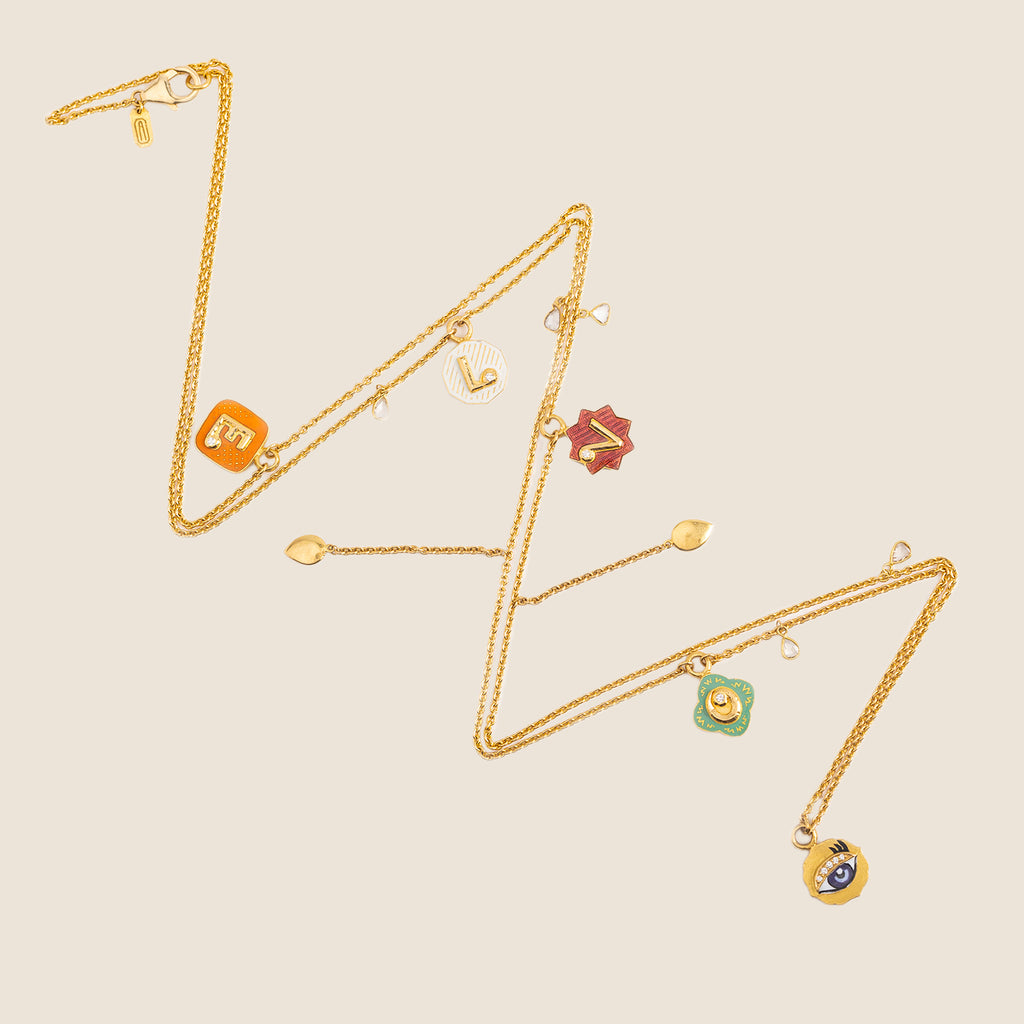 Heirloom Sautoir Necklace
$9,750 USD
This playfully magnificent piece of jewelry is imbued with a rich legacy, destined to be treasured for generations to come. Adorned with a long, resplendent 22K gold chain and exquisite mohur charms meticulously enameled on both sides, the sautoir necklace carries stories of our ancestors. The vibrant hues and intricate designs that are reminiscent of a bygone era, represent a tapestry of cherished memories. As you wear this heirloom sautoir necklace, you become part of a lineage, connecting the past with the present, infusing your own story into its remarkable narrative.
Please kindly include your preferred set of four initials in the comments/notes section during the checkout process. Rest assured, if you happen to forget, we will promptly contact you for confirmation once your order is received. 
22K gold, natural diamonds, and vitreous enamel.  
Dimensions
Charm sizes about 11-12 mm.
Necklace length is 32 inches
(For personalized lengths or to customize your exquisite Mohur necklace, kindly reach out to us at care@agarojewels.com. We are delighted to assist you in creating a bespoke piece that perfectly reflects your unique style and preferences.)

Shipping take approximately 2 weeks; please consider this time requirement when placing your order. 

Prices are inclusive of duties, shipping, freight and insurance.
Please note: All of our jewelry is entirely handcrafted, which means that each piece is unique, with individual variations in the enamel motifs, carat weights and stone quantities. Everything we sell is made using traditional methods and crafts which date back to the Mughal era. To learn more about how the jewelry is made please visit The Agaro Karkhana.